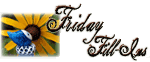 1. Friends
are the family you choose
. (A friend gave me a plaque for Christmas years ago that had that quote on it. I love it!)
2.
Protect your
health; it's
the least you can do for your family
.
3. I'm ready
for a reprieve from the little stresses of daily life over Christmas break.
(We are taking a little family vacation to Gatlinburg over Christmas break, and we are so excited to just relax and spend time together.)
4.
Sensuous by Estee Lauder
is one of my favorite perfumes.
The "old" Claiborne for Men
is my very favorite cologne!
5. The oldest ornament I have is
a white glitter-covered dove that a friend gave me in college as a symbol of friendship.
6. Take
some smiles, messes, giggles, messes, sweet words, hugs, books, cereal, messes, balls, and lots of love
; mix it all together and you have
Derek, our little two-year-old bundle of FUN!
7. And as for the weekend, tonight I'm looking forward to
shopping
in Traverse City with my hubby and children,
tomorrow my plans include
my second Christmas party of the season
, and Sunday,
I want to serve the Lord with all my heart (and make a nice roast with homemade bread for lunch)!
~~~~~~~~~~~~~~~~~~~~~~~~~~~~~~~~~~
Psalm 61:2 "From the end of the earth will I cry unto thee, when my heart is overwhelmed: lead me to the rock that is higher than I."
Maybe I'm all alone on this one, but sometimes I get overwhelmed with the daily tasks that confront me. Sometimes climbing out of bed in the morning is a daunting task. Sometimes, I have more of those "overwhelming" days than I would like to admit. Sometimes.

ALWAYS, God is all that I need. He is right beside me assuring me that no task is too great for me today, reminding me, "If thou faint in the day of adversity, thy strength is small" (Proverbs 24:10). My strength is small because I have not tapped into God's almighty strength. He is omnipotent, or all-powerful. He can move mountains. He can calm storms. He can probably handle a dishwasher full of dishsoap suds! ;o)
Christ is all I need,Christ is all I need,
For me He died, on Calvary.